What is certification?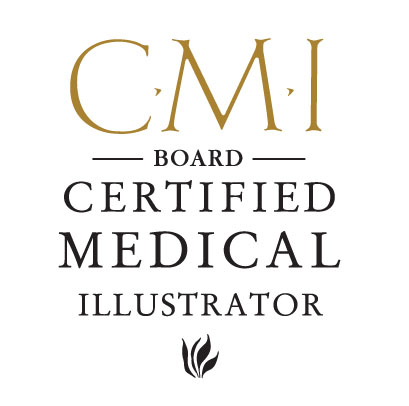 Certification is a program endorsed by the AMI to encourage lifelong learning and to measure professional competency for those illustrators and clients who voluntarily desire such credentialing. Similar to specialty certification for physicians, the competency evaluation consists of a written test and a practicum. The Board of Certification of Medical Illustrators (BCMI) objectively measures and evaluates the examination results and awards certification on successful completion. There is no relationship between certification and membership in the AMI.
Board certified medical illustrator
Any practicing medical illustrator who meets the eligibility requirements may apply to become board certified and obtain the designation Certified Medical Illustrator (CMI). The Board of Certification of Medical Illustrators (BCMI) is an independent body that administers this voluntary certification program designed to provide the practicing medical illustrator with the recognizable and valuable CMI credential. A CMI has successfully passed examinations in business practices, ethics, biomedical science, and drawing skills and has undergone a rigorous portfolio review. Please note however, the CMI credential is not necessary or required for a medical illustrator to be a skilled and successful practitioner.
Period of certification
Certification is for a five-year period.
AMI membership is not required
Certification must, under Federal Trade Commission regulations, be open to any qualified medical illustrator whether or not they are members of the AMI or any other professional society.
Standards applied
The certification program and its examination process are based on standards that are used by certification programs and licensing bodies in many diverse professions and occupations. These are the Standards established by the National Commission for Certifying Agencies (NCCA). The National Commission for Certifying Agencies (NCCA) was created in 1987 by ICE to help ensure the health, welfare, and safety of the public through the accreditation of a variety of certification programs/organizations that assess professional competence.
Eligibility
You are only eligible to be an applicant for certification if (1) you have a degree from a recognized college/university program in medical illustration that includes a course in human gross anatomy with hands on dissection, proven by transcript; or (2) You have a minimum of five years full-time work experience as a medical illustrator substantiated by letters of reference from employers and proof of a college-level course in human gross anatomy with hands on dissection or its equivalent.
Applying to take the certification exam
A certification exam application, a certification notarization form and the exam fee must be submitted to the BCMI prior to taking the exam.
Certification exam
There are two parts to the examination.
Part 1 is a written exam administered once a year at the site of AMI Annual meeting (and at other times and locations by prior arrangement with the Chair of the BCMI). The deadline to register to take the CMI Exam at the AMI 2023 Annual Conference in Henderson, Nevada is July 1, 2023.
Part 2 consists of an objectively measured portfolio review with some specific requirements in technique and subject matter. Instructions for Part II of the exam are supplied only after successful completion of Part I.
For more in-depth information, see the Certification Examination Information Bulletin [pdf].
Maintaining certification
The CMI credential may be renewed every 5 years by meeting continuing education requirements designed to maintain competencies required for practice. The competent practitioner performs work accurately and in the best interest of the consumer, makes correct judgments, and interacts with other professionals and customers effectively. Competence must be demonstrated and maintained throughout the individual's practicing life.
Renewing your CMI
Renewal of certification requires submission of a renewal application form, payment of a fee, and verification by AMI HQ that your required CE credits have been earned and properly recorded during the 5-year certification term. The CMI exam, in its entirety, must be taken again to regain CMI status if the appropriate number of CE credits is not earned during your 5-year term of certification.
More info
For more information concerning certification please read the Certification Examination Information Bulletin [pdf] or contact This email address is being protected from spambots. You need JavaScript enabled to view it..